You can deposit crypto or fiat using your Georgian-issued Visa or Mastercard (GEL), or by wire transfer (USD, EUR, or GEL) to your Cryptal wallet. To deposit funds, select the
Wallet
menu and choose the desired wallet from the Crypto and fiat wallets in the section on the left.
If you choose a crypto wallet, you will need to generate a deposit address first.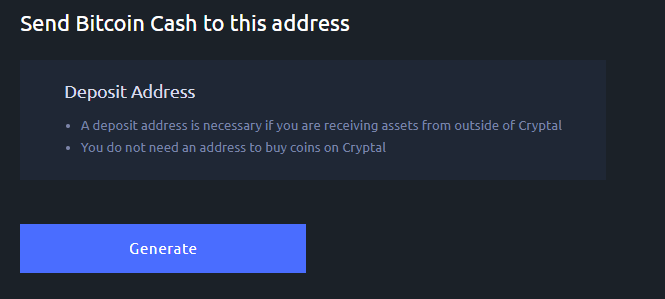 Once a deposit address has been created, a QR code and wallet address will show up in the section on the right. Use these to transfer your digital assets. Your coins will be reflected in your wallet after the Blockchain confirmation.
If you want to deposit fiat, choose the relevant wallet (USD, EUR, or GEL) from the section on the left. If you want to deposit from a credit or debit card (GEL or USD), you'll be able to choose from previously saved cards or you can add a new card. Indicate your amount and click Deposit. Your added funds will be reflected in a couple of minutes. If you select Wire Transfer, you'll be provided with our account information. Local transfers will be reflected within one business day, while international transfers may take up to 3 days.
Note that fiat deposits can only be made by verified users and must originate from an account held by the same accountholder at Cryptal. If the accountholder names do not match, the deposit will not be received.