Profile verification is required if you wish to deposit or withdraw fiat (GEL, EURO or USD).
To verify your account, click on the profile link: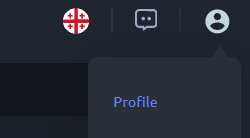 Depending on your citizenship and residency, you will need to upload a copy of your ID, passport, or residence card.
Our staff will process your request and within one business day you will receive either a verification confirmation or a request for additional documentation.