Profile verification is required if you wish to deposit or withdraw fiat (GEL, EURO or USD), and to participate in our airdrops and promotions.
To verify your account, click on the profile link: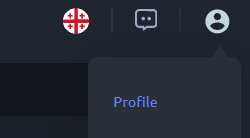 Depending on your citizenship and residency, you will need to upload a copy of your ID or passport.
Our staff will process your request and within one business day you will receive either a verification confirmation or a request for additional documentation.